Your Child is Welcome
Your child is invited to Master Club at Lindale Baptist Church. Master Club is an exciting time for children to come together to worship and to learn about the Lord Jesus Christ in a welcoming and safe environment.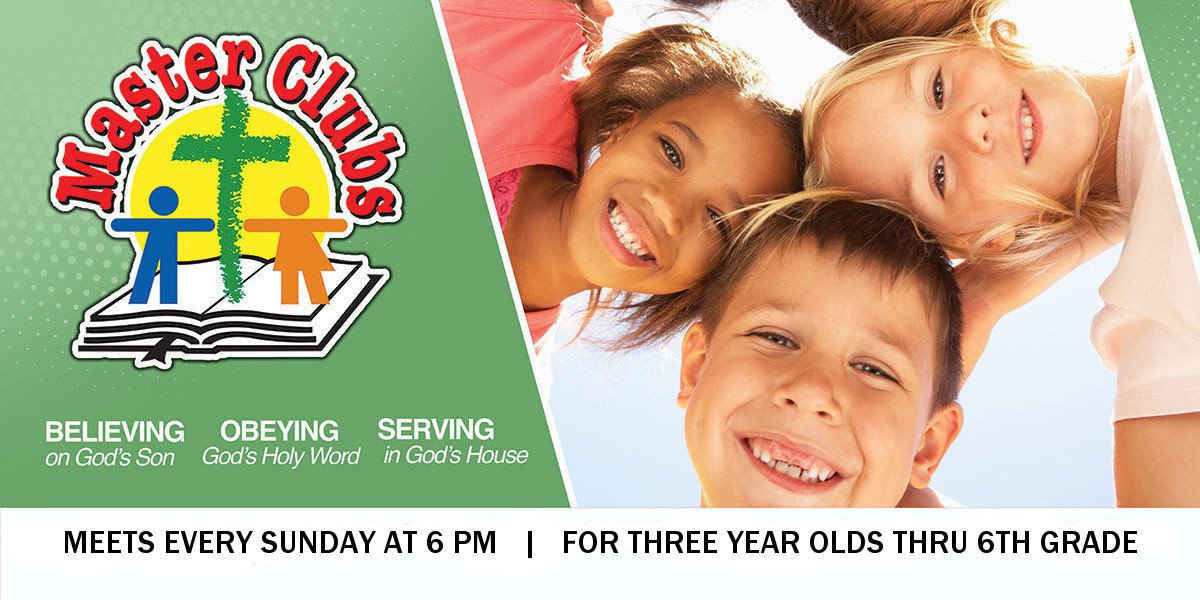 What to Expect at Master Club
Godly Children's Workers
While your child is at Master Club, they will be supervised and helped by our dedicated group of trained children's workers. Each of our workers is a godly role model who hopes to see your child grow in their Christian faith.
Exciting Bible Lessons
Your child will be provided with a strong biblical foundation through Bible lessons which are designed for their age group. Master Club teaches godly character traits like obedience, honesty, and respect. Our prayer is that every child will develop Christ-like character.
Wacky Games
Every club meeting will have high-energy games planned for each of our age groups. Your child will have a great time playing games with their fellow club members and will learn a few Bible truths along the way.
Practical Bible Application
Throughout the Master Club year, your child will work through their book. This will not only include Scripture memorization and Bible activity sheets, but also practical ways that your child can live out biblical truth on a daily basis. We pray that all of our club members learn to walk with the Lord in their everyday lives, not just when Master Club meets.
Awards for Every Child
As your child works through their Master Club book, they will have the opportunity to earn badges for their accomplishments. This is a great way to celebrate every child's accomplishments and encourage them to continue to learn and grow.
Cost
Parents need to provide $20 per child which allows their children to receive books, vests, and badges for the entire year.
WHEN
Every Sunday at 6 PM (August 18th - November 24th and January 5th - April 26th)
Where
Lindale Baptist Church
3052 SR 132
Amelia, OH 45102
Ages
three years old through 6th grade
Master Club Registration Form
If you are registering more than one child, please list in the note section THe name, Birthday, age, grade, gender of each additional child.
Got questions?
If you would like more information or have questions about Master Club at Lindale, please contact Kyle Cox at 740.238.8471 or simply click the button below!