Experience 15 powerful lessons that have equipped thousands of every day believers with greater vision, hope, and passion. In Perspectives, scripture, history, culture, and strategy converge to reveal the unfolding of God's redemptive purposes. He is on a mission to bless the peoples of the earth, and you're invited to join him.
"The goal of Perspectives is not to make missionaries out of all believers, rather to have all believers be on mission with God" (Dr. Ralph Winter, US Center for World Mission - now, Frontier Ventures). This is about mobilizing the whole body of Christ to become "World Christians," people who live intentionally to see God globally worshipped,
The Perspectives course is not designed to equip or recruit people who aspire to become missionaries. Some students are indeed exploring the possibility of working as missionaries. But the Perspectives course is designed for people of every walk of life to live their lives with obedient, strategic intentionality that Christ will be glorified in an evangelized world. With world evangelization as the overriding purpose of their lives, where they may live is secondary. Of course, anywhere they may live in today's world, they will encounter people from other cultures. We want every Perspectives student to grasp the challenges and possibilities of cross-cultural mission. Ultimately, we want them to find their part in that mission wherever they may live, and to become well-informed supporters of those who do cross-cultural work.
Missions is not just for missionaries. Every believer should be living a life of significance in God's global purpose!
Cincinnati Area Classes
Spring 2021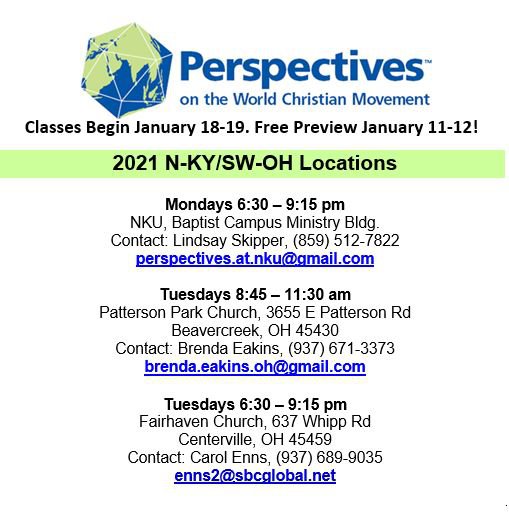 Register for Spring 2021 Session at NKU
NOTE:
Sign Up Now as space is limited!
The total cost for either Key Reading level or Certificate level is $250. There is a $25 discount at the time of registration for subsequent family member enrollments. Once you register for the class, you will receive an email explaining where and how to order the two required text books.
If you plan to attend virtually rather than in person, please email the class coordinator to let her know (information for coordinators is above based on location. For example, the NKU class coordinator is Lindsay Skipper).
First class begins on Mon evening, Jan 11; however, all participants must register no later than the 3rd class on Mon, Jan 25. There is no work due for the first class session.
Southwest Ohio Area Mobilizer for Perspectives
Paul Butler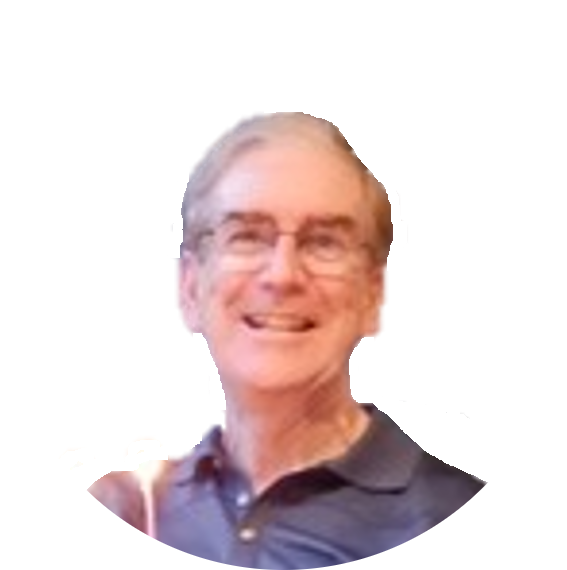 Retired from VA Hospital and Mobile Dental Practice as of July 2017
Enjoying being a grandfather to four granddaughters
Meeting many wonderful folks through Perspectives On The World Christian Movement course
Encouraging Local Churches to participate in area classes
Assisting local leaders in planning and hosting Perspectives
Networking and assisting with training opportunities